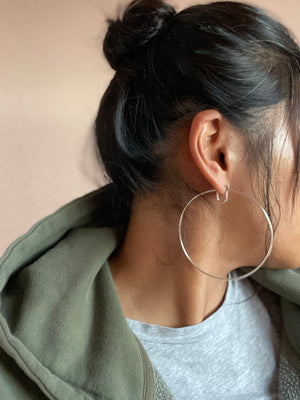 Oversized (xl) Crescent hoops
I've been asked too many times to count about making a basic large hoop. So here it is! Made simultaneously with its slightly smaller sibling, these extra large crescent hoops are simple but make a statement with their size for those looking for the perfect big hoop. Large and lightweight for daily wear, it's a basic hoop that everyone can use in their jewelry box.
And for those wondering why I chose to add the "U" under the lobe, it was partially for design, and partially for function. It allowed me to close the circle of the hoop to keep it more stable when worn and you won't have to worry about an open back that might catch things like hair or a crossbody strap. Stylish and wearable. 
cast/hoop mechanism
14kt gold dipped or sterling silver
3" diameter